The Long Long Note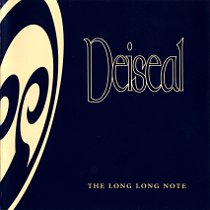 Irish Traditional music came under the spotlight in the seventies, thanks to the ground breaking work of such bands as Sweeney's Men, Planxty and The Bothy Band. These groups exposed a whole crop of younger musicians to the creative possibilities in a mountain of music as old as the hills.
Here on this recording Cormac Breatnach, Niall Ó Callanáin and Paul O'Driscoll, three of that younger crop, display their creative musicality. Both founding members of the highly innovative, but short lived, Meristem, Cormac and Niall have been playing together since their school days.
In this trio format, which is the ideal compromise between solo and group playing, they perform a mixture of traditional and original music in a style that reflects not just their traditional roots and modern influences but their own musical souls as well.
I love and enjoy their music, I hope you, the listener, will too.
Brian Dunning

Tune Notation

The Long Long Note on The Session

The Session website provides a huge database of notation (and lots more information) for traditional music tunes. The link above is a collective page showing the notation to most of the tracks on The Long Long Note album. By browsing to any tune from within The Session website you can also see what other musicians have recorded those tunes.

Track Listing & Listen
| | |
| --- | --- |
| 01 | Shores Of Loch Ghamhna [audio:http://cormacbreatnach.com//wp-content/uploads/2011/02/the_shores_of_loch_gamhna.mp3|titles=The Shores of Loch Gamhna (The Long Long Note)] |
| 02 | Sí Beag, Sí Mór [audio:http://cormacbreatnach.com//wp-content/uploads/2011/02/si_beag_si_mor.mp3|titles=Si Beag, So Mor (The Long Long Note)] |
| 03 | Raindrops/The First Of May |
| 04 | My Love I Miss Her So [audio:http://cormacbreatnach.com//wp-content/uploads/2011/02/my_love_i_miss_her_so.mp3|titles=My Love I Miss Her So (The Long Long Note)] |
| 05 | Long (Long) Note |
| 06 | Soporific / The Rights Of Man |
| 07 | Mná na hÉireann |
| 08 | Stranger At The Gate / Boston Blues |
| 09 | Lord Inchiquin |
| 10 | Lakeside |
Buy the Album
The Long Long Note can be purchased in MP3 format from the source below:

Reviews
[expand title="Nuala O'Connor, The Irish Times" tag="strong"]
Cormac Breatnach, Niall Ó Callanáin and Paul O'Driscoll are Deiseal, whose name translates as "following the direction of the sun" and whose music is occidental in that it leans towards jazz and Carribbean influences. The structure around which Deiseal weaves its unique sound is Irish traditional music root and stock, predominantly dance music. The instrumental line-up is Breatnach on whistles, Ó Callanáin on bouzoukis and guitar, and O'Driscoll on double and fretless bass.
While it is possible to identify some major influences like Donal Lunny on the band, Deiseal have developed an approach to traditional music that is unmistakenly their own. It is a measure of their capabilities both as performers and arrangers that they have succeeded in this: they have had some very hard acts to follow. Both Breatnach and Ó Callanáin have matured from their days with Meristem into accomplished composers and arraners of material. Breatnach's Raindrops and The First of May, two reels which show off his talent in both spheres, are wholly contemporary and true to the traditional nature of the form. This is the hallmark of the whole album. From Ó Callanáin's amusing hornpipe The Soporific to the joyful and airy version of the wonderful O'Carolan tune Sí Beag, Sí Mór, Deiseal are not afraid to stray from the well-trodden path, but do not lose their way in the process. Moody bouzouki effects and bass underscore the almost drifting, delicate whistle on an evocative arrangement of Mná na hÉireann. On the title track, The Long Long Note, a beautiful melodic line is clear through the bending and weaving variation and ornament.
[/expand]
[expand title="Oliver P. Sweeney, Hot Press" tag="strong"]
Irish music has taken many's a twist and turn on its way out of the darkness, progressively casting off its complexes till today it stands as one of the most admired and imitated forms of artistic expression.
Desieal – Cormac Breatnach, Paul O'Driscoll and Niall Ó Callanáin – have learned and assimilated the past, with the result that "The Long Long Note" is as fine, and challenging, a body of work as any Irish outfit has released in many's a long day.
Deiseal's music allows for no complacency. Rather, it demands one's fullest attention, repays dedication handsomely, each play revealing the subtlest of nuances previosuly missed, or an unexpected turn in a tune. Their version of the title track is a case in point.
Opening with chorded bouzouki and bass, the low whistle then takes the basic melody on a fascinating journey. Ideal stuff this (as is, indeed, the whole album) for a film soundtrack, with what is omitted almost as compelling as what is included.
I could go on: "The Long Long Note" is worth several pounds of anybody's money, and one of the strongest affirmations of recent times of the rude state of health of Irish music.
A stunning debut.
[/expand]
[expand title="Trish Murphy, D Event Guide" tag="strong"]
Deiseal is the interesting combination of low whistles, electric and acoustic bouzouki, and double bass. The Long Long Note, their first album, is about to be launched by no less than Michael D. Higgins himself. Though traditional in essence, their sound is by no means limited to this mode, with old tunes by O'Carolan and O'Riada being given a new, fresh treatment with shifting rhythms and jazzy harmonies resulting in, for example, a very different Sí Beag, Sí Mór.
Some original compositions by band members, plus other contemporary musicians: a great mix of lively pieces like Raindrops, with it's plucked bouzouki and calypso rhythm, and slow atmospheric tunes, the most memorable being the hauntingly beautiful My Love I Miss Her So.
Though mostly dominated by Cormac Breatnach's evocative whistle playing, Niall Ó Callanáin's filigree bouzouki and Paul O'Driscoll's subtle double bass also shine through.
[/expand]