Musical Journey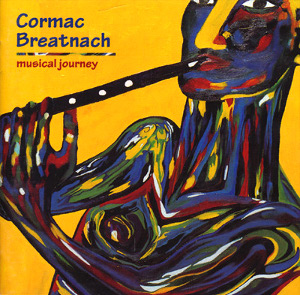 Musical Journey is Cormac Breatnach's debut solo CD, released in July 1998, on Cormac's own label, Dioscaí Mandala. It is a personal journey exploring the musical and cultural colors which influence his performance style, repertory and characteristic swing, which he brings to the music. A varied selection of pieces ranging from his favored polka form to songs carrying forth his Irish and Spanish identity, the pieces unite to portray an artist who is deeply rooted in his musical tradition but emotionally honest and willing to explore his own identity and to unselfconsciously allow it to emerge in its own inimitable form.
Musical Journey is a collection of tunes recorded with contributions from Máire Breathnach, Steve Cooney, Niall Ó Callanáin, Paul Mc Sherry, Garvan Gallagher, and Theo Dorgan amongst others. The arrangements are warm with careful and considered accompaniments, the tune versions adventurous taking one on an unexpected journey with sudden and spontaneous variation and improvisation.
Nollaig Ó Fionghaile

Tune Notation

Musical Journey on The Session

The Session website provides a huge database of notation (and lots more information) for traditional music tunes. The link above is a collective page showing the notation to most of the tracks on my Musical Journey album. By browsing to any tune from within The Session website you can also see what other musicians have recorded those tunes.

Track Listing & Listen
| | |
| --- | --- |
| 01 | Sporting Paddy / Adele |
| 02 | Tommy Whelan's / Oíche Nollaig |
| 03 | Na Ceannabhain Bhana / A Perpignan / Fasten The Legging In Her / The Legacy |
| 04 | Port na bPucaí |
| 05 | The Humours Of Tullycreen / The Princess Royal[audio:http://cormacbreatnach.com//wp-content/uploads/2010/11/the_humours_of_tullycreen.mp3|titles=The Humours of Tullycreen (Musical Journey)] |
| 06 | Mujeres (Women) |
| 07 | The Britches Full Of Stitches / The Toda Klop / The Step Ahead Polka |
| 08 | La Molinera[audio:http://cormacbreatnach.com//wp-content/uploads/2010/11/la_molinera.mp3|titles=La Molinera (Musical Journey)] |
| 09 | The Tailor Small's Jig / The Battering Ram[audio:http://cormacbreatnach.com//wp-content/uploads/2010/11/the_tailor_smalls_jig.mp3|titles=The Tailor Smalls Jig (Musical Journey)] |
| 10 | Maidin Luan Chincise / Sabhbh / Song For Sabhbh |
| 11 | The Belles Of Tipperary / Connie Connell's / Cooley's / Jennie Tie The Bonnet |
Buy the Album
Musical Journey can be purchased from a number of sources, both in CD and MP3 formats. The following sources currently provide my Musical Journey album:

Reviews
[expand title="Mic Moroney, The Irish Times" tag="strong"]"This jazz-tinged urban tradster make extraordinarily uplifting dance music… even delivers himself of a swoony Castillian sex-bragging song with the Café Orchestra, topping off a good humoured, thoughtful collection…"[/expand]
[expand title="Siobhán Long, Hot Press" tag="strong"]"Breatnach has always been a cerebral musician, inhabiting every corner of his tunes and fingering their deepest secrets with the dexterity of a three card trickster, but Musical Journey is an excursion of both the head and the heart…But the biggest surprise comes courtesy of Breatnach's vocal contributions. Swing-shifting from the lazy Castillian ballad of 'La Molinera' to the bleak desolation of 'Maidin Luan Chincíse' his singing is a revelation of talent too long hidden…"[/expand]
[expand title="Lorcan Murphy, The Event Guide" tag="strong"]"Like every craftsman, Cormac makes this all sound so effortlessly, on a combination of whistles, from slow-reels in the same set as a slow air on the opening track to the self-penned Mujeres (women) composed at the age of 15. The latter piece transcends the usual definition of `Trad', not merely by the addition of Brian Dunning on flute, adding a jazzy feel, but by its very structure, which has been reworked several times since its composition all those years ago… the overall feel of this beautiful CD is a man at one with his musical and life philosophy. Gorgeous !!!"[/expand]
[expand title="Fintan Vallely, The Sunday Tribune" tag="strong"]"Tasty, clipped rhythms that rise to exceptional moments in `Belles of Tipperary' and the night-sounding introduction to, `Port na bPúcaí'…Brian Dunning's flute is expertly sensible…an outstanding album"[/expand]
[expand title="Pat Ahern - The Examiner" tag="strong"]"…Mary Bergin and Sean Ryan set out to explore the possibilities of the whistle. Cormac Breatnach belongs to this category. In Musical Journey, he examines the potential of the various forms of whistle today….stimulation collection….Cormac is apologetic about his hitherto unrevealed singing talents…on La Molinera and on Maidin Luan Chincíse, he shows that he has nothing to be sorry for.[/expand]
[expand title="Jim Hayes, The Wicklow People" tag="strong"]"…The Rathdrum based musician makes his US Susato and low whistles sing, dance and paint magical pictures on an album that every traditional music fan should own…Irish music with heart and soul, this fine debut stands head and shoulders above most of the competition."[/expand]
[expand title="Máire Breatnach, Introduction to Musical Journey" tag="strong"]"To him it has been given to bridge and thus unite, many realms, most clearly observed here in the ease with which head and heart effortlessly co-operate, achieving a breathtaking balance between technical brilliance and emotional honesty. This is indeed a unique album."[/expand]
[expand title="Carole Baker, The Living Tradition" tag="strong"]"His Musical Journey has been put together with intensive care and great craftmanship, tracing his enthusiasms from schooldays onwards…an interesting set of sleeve notes accompany this album, probably the best I've read, completing a totally satisfying experience…"[/expand]
[expand title="Don Meade, The Irish Voice, NY, USA" tag="strong"]"..No other player gets as beautiful a tone out of a whistle as Cormac Breatnach… these low whistles have a breathily intimate character, nearly as flexible as the human voice and entirely without the shriekiness that afflicts standard pennywhistles…on several tracks, he slows down familiar reels to give normally quick-tempo dance tunes a thoroughly original makeover…Cormac's Musical Journey is a trip well worth taking"[/expand]
[expand title="Cliff McGann, Chiff & Fipple" tag="strong"]"In my mind Breatnach is one of a handful of Irish musicians who has been able to take Irish music and push its boundaries while still keeping its rudimentary core intact. As part of his musical journey Breatnach takes only three whistles with him, an Overton Low F, a Cillian Ó Briain Low D and a Susato C. What he does with those three whistles is sheer brilliance….the songs provide a lovely break between the spirited and evocative whistle numbers."[/expand]
[expand title="Mich G. Nielsen, The Danish Irish Society's Newsletter" tag="strong"]"I have known for many years that Cormac is a great flute and (low) whistle player, but on this album he also proves that he can sing. There is some kind of magic spell over this CD and Cormac's whistle playing. Whether it's the speed (or lack of it) or the tone of his whistles, I don't know, but it's a fact that the CD has hardly left my CD player since it was put in the first time; I can thoroughly recommend this CD"[/expand]
[expand title="Steve Dieterich, 'Celtic Airs', WWUH Radio, Conneticut, USA" tag="strong"]"..This is an album of accompanied low whistle music that rivals the best of Michael McGoldrick and Davey Spillane with a style reminiscent of Lúnasa..an altogether satisfying album; I recommend it highly".[/expand]
[expand title="The Anglo-Celt Leisure" tag="strong"]"…'Musical Journey' is the debut solo release from Cormac Breatnach and it is unusual in that he has tried to combine modern jazz style improvisations to traditional music…if you are looking for a new sound, Cormac Breatnach may just be what you are looking for."[/expand]
[expand title="Alex Monaghan, The Living Tradition" tag="strong"]"This man is a genius. He plays like he was born with a tin whistle in his mouth. This CD covers all that ground and more, taking us from the music Cormac learned in school, through Jazz and Latin influences, to the mindblowing power and depth of feeling in his interpretations of traditional music, all in 53 minutes. There's a whole bunch of fine guest musicians doing their bit, but to be honest you hardly notice them, which is how it should be: the whistle grabs the attention and holds it. What Brendan Power did for the moothie, Gerry O'Connor for the banjo, and Mairtin O'Connor for the button box, Cormac Breatnach has done for the humble tin whistle. This is what traditional music is all about."[/expand]
[expand title="Ivor Geraghty, The World of Hibernia Magazine, Ireland & the USA" tag="strong"]"…The resulting sound is already well known through artists such as Davey Spillane, but here Breatnach takes a much broader view, and, as the title would suggest, incorporates many diverse styles and cultures…Breatnach produces a form of "world music" that transcends the marketing men's appropriation of the term and actually brings together many different genres to produce one unequalled collection. For too long, record companies have been selling the cultural dregs of countries to a largely unsuspecting world under the guise of "world music" while the true pioneers go unrewarded. Breatnach is a fine innovator and indeed, an ambassador for progressive Celtic music. With this release, he goes a long way to reclaiming this overused term for those who are "keepers of the flame".[/expand]
[expand title="Ciro De Rosa, World Music, Italy" tag="strong"]"This Irishman has a great familiarity with the traditional lexicon. But being a free spirit he goes beyond the musical boundaries..not everyone is able to stand out with a creative writing and to keep the balance between techincal brilliance and emotional approach…" (translation)[/expand]
[expand title="Axel Schuldes, Irland Journal, Germany" tag="strong"]"…Cormac.takes us on a mystery, dramatic, magical tour with grace, which puts us in touch with very different sound colours and moods…how perfectly he achieves this journey which would have turned into a wild mixture had it been created by somebody less talented; this shows Cormac as a great connoisseur." (translation)[/expand]
[expand title="Sean Laffey, Irish Music Magazine" tag="strong"]"…There are others in the low whistle fraternity that will kill you with the melancholy of the aluminium pipe. Not Cormac, there's a great variety in this album…this is an adventurous and challenging album; it held my attention from beginning to end and like a good magazine can be dipped into at any time. One last point, it's impeccably recorded".[/expand]
[expand title="Folk Roots, UK" tag="strong"]"…There is a fine line between new age tackiness and an inventive innovative modern approach to traditional music. This album isn't afraid to sail close but emphatically avoid it. The music is lovely and the accompaniment is foot-tapping and lively as Cormac whistles and flutes his way through some grand music, verse and song."[/expand]
[expand title="Taplas, The Voice of Folk In Wales & The Borders, Wales" tag="strong"]"…Solo albums can offer appear sparse but this is confident, earthy and full-bodied. The odd juxtaposition of trad. music and sultry Spanish numbers strangely works. Breatnach possesses the gift of perfectly matching different whistle tones to the mood of each tune set and, with the help of Karen Tweed, Steve Cooney, Niall Ó Callanáin et al, has conjured a collection full of intriguing nooks and crannies that rise to the surface with each successive listen…"[/expand]
[expand title="Michael Moll, FolkWorld CD Reviews" tag="strong"]"The Music is highly imaginative, drawing beautiful images that change their shades every moment into unexpected new colours. Full marks or an album full of fresh innovation…"[/expand]
[expand title="Carole Baker, The Living Tradition" tag="strong"]http://www.folkmusic.net
Cormac Breatnach is one of Ireland's finest musicians, soundly based in the tradition but not afraid to experiment with other idioms. His 'Musical Journey' has been put together with immense care and great craftsmanship, tracing his enthusiasms from schooldays onwards.
Although still playing the Overton whistles from the days of his Deiseal incarnation, he has widened his horizons to embrace the plastic Susato from America, and one very special Low D whistle with which he is most obviously in love, made by Dingle instrument maker Cillian O Briain.
Eleven long tracks lasting 55 minutes, an esoteric mix of traditional and contemporary compositions, songs in both Irish and Spanish (reflecting his tri-lingual upbringing), and a poem written and recited by Theo Dorgan, reflecting on a theme from 'Sive', a play by John B. Keane, accompanied by a slow air by Donal Lunny composed for the original Abbey Theatre production. This will give you some idea of the breadth of Cormac's vision and the wealth of his imagination. He has collaborated with many a fine and famous guest, both in arrangement and composition – Steve Cooney, Maire Breatnach (no relation), Paul McSherry, Karen Tweed and Niall O Callanain from his Deiseal days, to name but a few.
It is difficult to be selective but space does not permit me to mention everything in this diverse collection. It begins brightly with 'Sporting Paddy', a reel played slowly, which runs into 'Adele', an air composed for his wife of three years. There are fast and slow reels, slip and double jigs, a fine set of polkas, all played with Cormac's inimitably sparkling style. Sandwiched between are the songs. 'La Molinera', a traditional Spanish bragging song which he collected while at the 1995 Azores Music Festival, and 'Maidin Luan Chincise', remembered from primary school days, a song about the 1798 Rebellion.
For the slow air afficionado 'Port Na bPucai, played on the Cillian O Briain whistle may well be the high spot, but I must confess to being smitten with 'Mujeres', a tune composed when Cormac was only 15 as an appreciation "of women throughout the world".
An interesting and comprehensive set of sleeve notes accompany this album, probably the best I've read, completing a totally satisfying experience. Cormac's ambition is quoted as "to hear my own individual voice". Rest assured, he is well on the way to achieving it.[/expand]
[expand title="Chuck Lipsig, Greenman Review" tag="strong"]http://www.greenmanreview.com
I don't think it's any secret that I really like Celtic music. Therefore it should be no surprise that the majority of the reviews that I write are generally positive. So let me make it clear that this is not just one more decent-to-good review. Simply put, Cormac Breatnach's Musical Journeys blew me away. I mean, I was hanging out with some friends on a news and politics forum, while listening to this and felt compelled to go off-topic mention this great CD I was listening to. While waiting for a page to be returned at work a few days ago, I came up with a list of my ten favorite recordings, and this was on it.
On Musical Journey, Breatnach primarily plays whistle, as well as singing on two tracks. With the leadoff track, the slow version of the traditional reel, "Sporting Paddy" and a slow air of Breatnach's on composition, "Adele," I knew this was something special. Dancing in and out of traditional folk and jazz — if the term hadn't become hackneyed, I'd be tempted to call this New Age — this is simply a smooth, beautiful performance.
If I were to go through each track, I'd end up repeating the last sentence over and over again. However, there are some nice touches that make certain tracks stand out over others. The four jigs, "Na Ceannabhain Bhana," "A Perpignan," "Fasten the Legging in Her," and "The Legacy," make a nice, easy-going set with a rather traditional feel with Breatnach's whistle playing backed by a number of other musicians. An amusing bit is Breatnach, along with Maire Breatnach (no relation), taking off on a sung "Diddle-ee-dum" version of the first tune. "The Britches Full of Stitches," which starts a set of polkas, is one of my favorite tunes; Cormac with Steve White on bongos give it a syncopated, almost calypso feel. Breatnach continues the set by seamlessly flowing into a more traditional, guitar and bouzouki-backed style for "The Toda Klop" and blends the two styles for "The Step Ahead Polka."
For all that this a wonderful CD, but there is one track that stands above the others. "Port Na bPucai" is an air that was possibly inspired by whale-song, about a woman held beneath the sea by the fairies. Whatever the origin, this instrumental arrangement and performance is inspired. The track starts with some haunting sound effects, courtesy of Joe O Dubhghaill, before the whistle comes in slow and eerie. The tempo stays slow, but Breatnach's playing is intensely emotional. Along with Breatnach and O Dubhghaill, credit goes to Steve Cooney for his co-arrangement, as well as performances on shruti box (an Indian cross between an accordion and a bagpipe) and spanish guitar. On other tracks, Cooney plays fretless bass, chimes, and djembe, highlighting an excellent groups of back-up musicians (more than twenty, by my count).[/expand]
[expand title="Ron Janssen, New Folk Sounds" tag="strong"]The tin whistle is often the first musical instrument Irish children get into their hands. As soon as they have mastered a few tunes, the children often graduate from the tin whistle to another instrument. Not many people stick to the whistle and go on to record CDs of traditional airs. Fortunately, the instrument is increasingly being regarded as a worthy instrument, particularly when it comes to the larger variant, the low whistle.
The trailblazers of today tend to be innovative and have discovered that they do not need to restrict themselves purely to traditional tunes. We are now seeing more CDs produced in which the whistles bring you on a journey through a world of atmosphere and movement. Cormac Breatnach, from County Wicklow in Ireland has developed an interesting style on both the low and the tin whistle. The tunes on his Musical Journey do not all form a specific part of the traditional repertoire. Breatnach has experimented and discovered that blue notes can impart another direction to the music. This CD comes from a virtuoso who has a broad repertoire and a lot of variation to his music. Breatnach's music, with its twists and turns, surprises and keeps to the fore. And vocally, too, he has much going for him, as is evidenced by his treatment of the Spanish song La Molinera.
Musicians such as Steve Cooney, the Café Orchestra, guitarist Paul McSherry, accordionist Karen Tweed, fiddler Máire Bhreatnach, and many more besides colour in the background with atmospheric backing that does real justice to the whistle tunes. The recording is well rounded and the whistles impart a warm and pleasant aura. A musical journey that you will certainly make more than once![/expand]