Music for Whistle & Guitar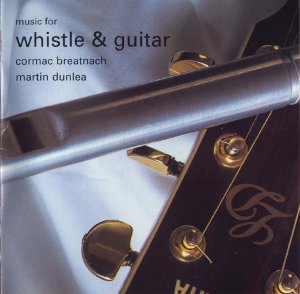 This CD is a pairing of two gifted musicians, both quite different in approach and musical background, who have managed to create a unique and successful hybrid in contemporary music – drawn from the roots of both jazz and traditional Irish. As well as interpretations of older tunes, there are eight original compositions.
For such a concept to work, great sensitivity must be applied and these explorations in courageous melodic phrasing, rich harmonic texture and rhythmic structure I can only describe as inspirational science.
As creative as they are, for the purposes of this recording they imposed limits on the amount of studio artifice they would employ. There are no 'overdubs' or multiple tracking to fill out the sound; just two instruments, the whistle and guitar.
Cormac plays a variety of whistles, from the chirpy warblings normally associated with the highest tonal register of Irish music, to the mellow tones of the low whistle, reminiscent of the alto flute. Unusually, Martin plays his steel-strung guitar with the fingers of his right hand, (as well as the plectrum) thereby accessing a variety of techniques more associated with the nylon-strung classical guitar.
This meeting reminds us of what may be achieved by musicians who have become experts in their own fields and who then move into each other's musical worlds, with mutual respect and with respect for the spirit of the music.
Rath Oraibh
Steve Cooney
"Music for Whistle and Guitar" is a joint-production between Dioscaí Mandala and Pressure Records.

Tune Notation

Music For Whistle And Guitar on The Session

The Session website provides a huge database of notation (and lots more information) for traditional music tunes. The link above is a collective page showing the notation to most of the tracks on my Music For Whistle And Guitar album. By browsing to any tune from within The Session website you can also see what other musicians have recorded those tunes.

Track Listing & Listen
| | |
| --- | --- |
| 01 | Through The Fields / The Man Of The House / The Shores of Lough Rea |
| 02 | Morrison's (Paddy Stack's Fancy Jig) / The Tailor Small's Double Jigs |
| 03 | Christmastime In Ashland[audio:http://cormacbreatnach.com//wp-content/uploads/2010/11/christmas_time_in_ashland.mp3|titles=Christmastime In Ashland (Music for Whistle & Guitar)] |
| 04 | The Foggy Dew [audio:http://cormacbreatnach.com//wp-content/uploads/2010/11/the_foggy_dew.mp3|titles=The Foggy Dew (Music for Whistle & Guitar)] |
| 05 | The Wicklow Way |
| 06 | Sue's Hornpipe / Last Train |
| 07 | Cufflink / Humours Of Tullycreen / Cufflink and Eileen Oge [audio:http://cormacbreatnach.com//wp-content/uploads/2010/11/cufflink.mp3|titles=Cufflink] |
| 08 | Down by the Glenside / The Sporting Paddy |
| 09 | Music Box |
| 10 | Na Ceannabháin Bhána / The Killvail / The Old Flail |
| 11 | Ogham Ripples |
Buy the Album
Music for Whistle & Guitar can be purchased from a number of sources, both in CD and MP3 formats. The following sources currently provide my Music for Whistle & Guitar album:

Reviews
[expand title="Dale Wisley, Chiff and Fipple, 04/03/01" tag="strong"]http://www.chiffandfipple.com
I do not expect to hear a better whistle CD than this in 2001. Or in 2002. I've interviewed Cormac for Chiff & Fipple and am a big fan of his CD "Musical Journey". So, I had enthusiastically awaited his duet CD with guitarist Martin Dunlea. Cormac was in rehearsals for this recording when I interviewed him in 1999. When it arrived, I had in my hands a very attractively packaged CD, with a gorgeous photo on the cover which, on close inspection I suspect is actually an artful scan of a close up of a whistle and a guitar head. The liner insert is lavish with information and detailed notes (although, I always wish Cormac would provide more details about what whistle he uses when).
The music is spectacular. Martin Dunlea is a skilled accompanist with a marvelous touch. He takes a solo turn here and there to demonstrate his skill further. The liner notes tell us that Martin "plays his steel-string guitar with the fingers of his right hand, (as well as the plectrum) thereby accessing a variety of techniques more associated with the nylon-strung classical guitar." The result is a crisp, positively invigorating tone. And what of whistle? This CD is an ideal showcase for the whistle. Cormac is a virtuouso whose playing can be tender and muscular at turns. He varies the whistles from high to low to help prevent the kind of "whistle fatigue" which is always a risk with such recordings. Cormac often favors his Low F, which he told us in the interview is an Overton, modified by Cillian Ó Briain. (I gather he uses this one again on this CD).
I also love the production of this CD (by the artists and Steve Cooney). The recording is crystal clear, up close, and lacking in obvious studio enhancements or parlor tricks. The result is an astoundingly intimate recording. One can hear all kinds of nuances in in the instruments. Cormac's playing remains influenced by other styles. One hears Spanish influence (Cormac's middle name is literally "Juan.") The jazz influence is very clear. (Wait until you hear the version of "The Foggy Dew"). But, the CD remains centered in the Tradition. Some of the tracks are soothing and beautiful and some made me want to dance while driving down the road listening. (At this time, I would like to send my personal greeting to Alabama State Trooper Curtis D. Johnson. Thank you for your restraint and professionalism).
I will tell you now that I know this CD will reside indefinitely on my list of best whistle albums. I am tempted to offer to buy any copies from Chiff & Fipple subscribers who buy it and are disappointed. I don't think I would have to spend a dime. (But, I'm not offering).
This CD, like the previous one from Cormac, is independently produced. Check the website for ordering. Also, I remind all of you that whenever I need a CD imported to the US, I call Margaret Tice at www.tayberry.com. (Not a commercial message. Just advice)."
[/expand]
[expand title="Fintan Vallely, The Sunday Tribune, 04/03/01" tag="strong"]Breatnach here returns to a more direct approach to the Traditional. His selections open on jigs, reels and airs, progressing subtly into a unique stamp of Jazz extemporisation. Aided by subtle guitar chording he transforms all beautifully, returning to base without grating sensibility. Dunlea's guitar is sensitive, interwoven accompaniment, his own Music Box Classical, but effortlessly complementary to album thread. If the inclusion of Foggy Dew seems more a personal marker, the whistle player's own Wicklow Way shows great imaginative voice, with Sue's Hornpipe simply Jazz in superb control.
Eileen Oge and Glenside carry the old further, the break to Sporting Paddy understated, and the reworked, 1989, Ogham Ripples is dreamily engaging.[/expand]
[expand title="John O'Regan, Irish Music, April 2001" tag="strong"]
Music To The Power of Two
http://mag.irish-music.net
There's something special about a duo. The transmission of notes, styles and idioms local or global find intimacy and atmosphere in a duet context. Music to the power of two is a special thing and duets like Hayes and Cahill, Glackin and O'Domhnaill satisfy the equation. Another duet that comes within this algebra is that of Cormac Breatnach and Martin Dunlea.
Cormac Breatnach's name rings a bell with his involvement in bands like Méristem and Deiseal. Both outfits were at the cutting edge of Irish music unafraid to try something different and dip their toes into the waters untouched by less adventurous souls. Méristem mixed Irish music with New Age and jazz inflections penning among others the classic Ogham Ripples. Deiseal with their stripped down line up of bouzouki, high whistles and low whistles and bass played traditional music with a passionate energy on their The Long Long Note their debut album and experimented with jazz rhythms and scat singing on Sunshine Dance. "Those bands were doing something different and that's what I like to do. I have never been really happy just playing traditional music. Although I don't consider myself an Irish traditional musician I have always wanted to push out the boundaries having regard to my upbringing and respect for traditional music. My grá is obviously in the traditional music field. But I also take in other influences from blues and jazz which I dearly love." Cormac Breatnach told me.
Breatnach's debut solo album Musical Journey' was a multi-hewed canvas of various styles interwoven with skill and dexterity. How much of this had translated into his duo work with guitarist Martin Dunlea is another interesting question. He has given the duo format a try and the results are to be found on their new album Music for Whistle and Guitar. Here the music soars and bends with the combined talents of the players involved, just two instruments, an acoustic guitar and a bunch of low whistles-but what music they make! A self taught guitarist, Martin Dunlea from Ballyvollane in Cork made his way to Dublin to check out the music scene there "I started off playing the acoustic guitar and eventually the electric in blues and rock bands." Martin ended up playing with visiting US bluesman George 'Wildchild' Butler but came to Dublin to play with Cork singer/songwriter Tony O'Sullivan in the band 'Soon' a highly rated early 90′s outfit. His entry into traditional music came through sessions "I had started playing in sessions that I had organized in the 'White Horse' pub, playing about four nights a week and some great players like Paul McNevin and Peter Browne used to come in. After meeting Cormac and playing tunes with him informally, he suggested doing something as a duo. Deiseal had disbanded and now that he was working full-time he had less time and he saw the potential of working as a duo as less demanding I suppose and we just took it from there"
Breatnach and Dunlea work hand in glove creating something personalized and special. Their meeting was like so many other musical pairings at a gig, "Martin and I met each other at a gig in late 1998 when he was playing with the Triple Harp Bypass (Mick Kinsella, Brendan Power and Rick Epping) at the Harcourt Hotel and I was taken with his guitar playing. After the gig I met Martin's partner who I knew and was surprised to learn that they then lived in Roundwood which was 15 minutes away from me. I was in the process of moving to Glendalough and we agreed to meet informally for a couple of tunes and that turned into our present musical relationship" Cormac explained. "We had done some demos on Martin 's computer but it would have taken us about a year to get to know each other in some respects musically and come up with the present material we are happy to perform."
The selection on Music for whistle and Guitar includes some original compositions one from Cormac and six from Martin. "One tune called Sue's Hornpipe I had written as a straight tune in standard hornpipe time and had gotten various people to play it but never got it the way I wanted it. I re-worked it with Cormac and found that Cormac has a unique sense of phrasing and timing that suited the tune for me. We worked other tunes into sets for the album Through the Fields, I would have written that up in Roundwood when I was living there. 'Cufflink' isn't a tune, it's like a recurring theme". A Guitar teacher in Newpark School on a jazz course run by Ronan Guilfoyle, Dunlea confesses to being neither a blues nor jazz or traditional player "I try to incorporate elements from various styles while being a master of none. I find with the duo there is a more intimate interaction. My approach would be that I am just trying to colour what Cormac does. Cormac is quite jazz influenced and when we got together I realized that I had the opportunity to colour the tunes in a way that I would not be able to do with someone else."
Everything from original tunes to traditional standards gets the Breatnach/Dunlea treatment with some unusual inclusions. Morrison's, Irish Paddy and The Cotton-grass flowers to Percy French's Eileen Oge and the patriotic ballads The Foggy Dew and Peadar Kearney's Down by the Glenside are treated with respect and courtesy and the result is music blessed with a sense of fresh immediacy. The combination of the whistles and acoustic guitar allows for its own brand of interaction, and Breatnach is certain that there is a true interaction at play here. "My visual interpretation of our music would be in the form of me driving a car in, say, America, along some flatland – out in the wilderness – the sun shining through those amazing cloudscapes you can visualise is represented by Martin's colourful playing. I think Martin is a very interesting player and his playing is quite unique and I am delighted to be playing with him."
Cormac's use of the Susato whistle is highly distinctive "The sound of the whistles which I play on the album is important to me too, these whistles are made in Alabama, USA they sound like a cross between a recorder and a tin whistle and have this very clear and accurate sound." He says. The duo have tested the live waters recently while on tour with Luka Bloom and will hit the road for selected appearances in May to coincide with the release of Music for Whistle and Guitar. Produced by Cormac Breatnach and Martin Dunlea with help from Steve Cooney, the album is an oasis of quiet pleasures offering an intriguing combination of diverse styles united in melodic invention and close musical harmony.[/expand]
[expand title="Mich Nielsen Danish, Irish Newsletter, December 2000" tag="strong"]Flute and (these days mostly) whistle player Cormac Breatnach has teamed up with guitarist Martin Dunlea to make this fabulous cd. It's a rare example of how well two genres (trad. Irish and jazz) can mix. Whistle & Guitar is the name of the cd and is exactly what it says: A number of great tunes played on whistles and guitar. There are versions of older tunes as well as eight original compositions. Some of them (some would say too many) we have heard on earlier Cormac Breatnach recordings. I don't mind that too much as they are presented here in new arrangements. The music is just beautiful and you can hear that the two boys have been thinking about what they are doing. Both of them are great musicians, which this cd certainly shows. There are no overdubs or multiple tracking and therefore their music is so easy to transfer on to a stage for their live performances. They proved this last month at the Copenhagen Irish Festival, where they captured an audience of fellow musicians and critical punters, and held them almost breathless for an entire set.
Much as I liked Breatnach's previous cd I think this is even better. Himself and Dunlea seem to have found the right recipe for good music.[/expand]
[expand title="Michael Moll, Irish Music Magazine, February 2001" tag="strong"]" …Saturday saw a quite perfect concert in the Pumpehuset (Copenhagen). Starting off were flute wizard Cormac Breatnach and guitarist Martin Dunlea, impressing with their stunning mix of traditions and jazz. Absolutely faboulous."[/expand]
[expand title="John O'Regan, Irish Music, February 2001" tag="strong"]"…Opening the Show ex-Deiseal whistler Cormac Breatnach and guitarist Martin Dunlea treated the audience to some well thought out, articulate traditional music and new tunes in the traditional mould. Cufflink had them swapping themes and variations while the Méristem classic – Ogham Ripples breathed anew in this duet formation. A pleasure to hear Cormac Breatnach's mellow whistle playing again and working to their strengths the duo crossed the boundaries of Irish, Jazz and World-music inclined textures easily and without a join in sight. The Breatnach-Dunlea paring is one I hope to see in action again soon."[/expand]
[expand title="Siobhán Long, The Irish Times, 11/05/01" tag="strong"]Skeins of light shot through stained glass. CB and MD make music fit for cathedral and cabin alike. Not since Seamus Begley and Steve Cooney's Meitheal have we heard such intuitive playing from a duo with one ear cocked to the traditional, the other toward jazz-inflected rhythms. Breatnach's sundry whsitles curtsy and bow to Dunlea's steel-strung guitar with Nureyvian finesse. Contributing eight original tunes alongside a rake of traditional stalwarts, Breatnach's slow air, The Wicklow Way, is muted and melancholic; Dunlea's Music Box is small but perfectly formed, its rhythms capturing perfectly the cadences and revolutions of a pirouetting ballerina. A magnificent concoction.[/expand]
[expand title="Siobhán Long, The Irish Times, 17/05/01" tag="strong"]"CB and MD have orbited in entirely different spheres for many years – the former inhabiting a trad/jazz zone, the latter a decidedly folk rock/blues milieu. But they recently joined forces to record an album, Music for Whistle & Guitar, which in turn has fuelled their imminent tour. Breatnach has forged a reputation as a flautist and whistle player with a yen for fleet-footedness, while Dunlea's pedigree stretches as far left of centre as Gavin Friday, pausing en route to stitch some arteries in Triple Harp Bypass (alongside harmonica supremos Mick Kinsella, Rick Epping and Brendan Power). The new CD is a triumph of lateral thinking, embracing the best of the tradition, and embellishing it with no less than seven original tunes. Expect no heavy-handed arrangements or leaden-paced set pieces. Theirs is a sound aimed at the head and heart, with a nod in the direction of the hips too, of course.[/expand]
[expand title="Mic Moroney, Muse" tag="strong"]http://www.muse.ie
In the old style, Breatnach the whistler plays the music when his day's work as an accountant is done but he brings an extraordinary level of accomplishment and commitment to jazz-jamming invention within the ould tradition, and a lovely liveliness to such familiar tunes as the "Bog-Cotton Flower" and "The Killvail". On others, he elasticates and playfully rejigs the tempo, until the tunes snap-and-wobble into new forms of hornpipes, or hark his push-and-tugging of the phrase scraps of "The Irish Paddy". There's a beautiful, studied clarity of phrasing, with the chuckly little double-rolls and little conceits of note-runs, occasionally letting himself go further out on the second parts. He also adds eight original familiar-sounding compositions, including a beautiful, complex, feeling air of his own, "The Wicklow Way", inspired by the "beauty and sadness" of his new home county. Or try the two entirely different distortions of the rebel-gooseflesh "Foggy Dew", one after another, with Breatnach using one of the hoarser, hairier instruments from his bag of American Susato whistles.
Dunlea's also an extraordinary guitarist, paying close melodic attention with his extrardinary harmonies, nimbly climbing inside and out of Breatnach's tunes, mirroring and echoing them with jazz-strumming or dangling chords, which open up unthought-of cambers and harmonic overlays which occasionally pull hard against the arcing modality of Breathnach's phrases, yet bring fresh expanses of colour and emotion. He's his own tunesmith too, setting Breatnach up improvising around his tune "Cufflink", a piece of easy, mellifluous, uptempo, drive-time jazz. But you have to hear him playing alone on his own composition, "Music Box", to understand the groping complexity of this guy's musical intelligence, doing finger-and-plectrum techniques that left that rare bird, Steve Cooney, gobstruck with admiration. It's a nice fresh tranche of searching accoustic experiment, and a very bright recording, what with the high ringing treatment of the whistles, and every scratch of Donlea's fingers moving around the neck of the guitar.[/expand]
[expand title="Chuck Lipsig, Green Man Review" tag="strong"]http://www.greenmanreview.com
After that (review of "Musical Journey, ed.), it's almost unfair to review Cormac Breatnach and Martin Dunlea's Music for Whistle and Guitar. The recording is as basic as its title, with Breatnach and Dunlea the only performers and the recording made without any technical wizardry. The combination is strong with Dunlea providing a stronger jazz feel than in Musical Journey There are some very nice tracks here. The set of "Morrison's" and "The Tailor Small's Double-Jigs" is a pleasant rambling tune.
Dunlea's "Sue's Hornpipe and Last Train" started life as a hornpipe, but was changed into a beautiful, quick, romantic air. There is some excellent interplay between the two musicians in this performance.
The highlight of this CD is "The Foggy Dew" — or rather, series of jazzy variations on the patriotic Irish tune. This starts off with a slow, meandering version and slowly increases the energy. The performance feels effortless and, indeed, I wonder how much Breatnach was improvising on this track. All in all, Music for Whistle and Guitar a good, solid CD.
If you listen to Celtic music regularly, odds are you have heard Cormac Breatnach before. He's played as back-up or part of an ensemble on many recordings, including Riverdance and the soundtrack to The Secret of Roan Inish. However, these two CDs are his — or his and Martin Dunlea's — babies. Both are good and Music Journey is one of the best recordings I have ever heard.[/expand]
[expand title="Michael Pierse, An Phoblacht/Republican News, 19/07/01" tag="strong"]
Jazz/Trad Fusion Works Wonders
An Phoblacht / Republican News
Titled simply, `Whistle & Guitar', this CD works wonders for the ears and the soul.
Breatnach, from a traditional Irish music background, intertwines his lively rhythm perfectly with Dunlea, who is making the transition from jazz to trad.
Interspersed with new and alternative recordings of older tunes, the compilation boasts eight new, quick cadenced melodies, skillfully combining the pitch of the whistle with the rhythmic strum of the guitar in agreeable harmony.
Seeing them live in the Cultúrlann, West Belfast, was a treat. The venue's natural relaxed aura and its dark, candlelit appearance was perfectly conducive to their musical style. Both musicians exude energy and intensity and convey their love of music to their audience. They have a story behind each tune, which they synopsise live and is elaborated on in the inlay card of the CD.
Interestingly, the duo were conservative in their use of technology for the purpose of the recording. Their simplicity is a triumph.
For those of us who like our rebel music in the refined form, and shy away from the more vulgar, jingoistic drivel, `Whistle & Guitar' strikes a nice balance. `The Foggy Dew', `The Wicklow Way' and `Down by the Glenside' are re-interpreted magically. `Down by the Glenside', re-mastered with an injection of pace, is particularly enjoyable. Airs of rebellion are a solid part of their music.
Despite the `odd couple' image that Breatnach and Dunlea might logically pose, their collaboration is a tribute to a talented and yielding pair. Well worthwhile.[/expand]